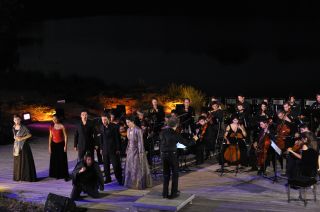 Subscribe to our Newsletter
2012 : 19th Academy : Viva Rossini !
La cambiale di matrimonio de Rossini, 1810

Leonardo García Alarcón - musical & educational direction.
Opera in one act by Gioachino Rossini, with a libretto by Gaetano Rossi.

Tobia Mill, a rich merchant (bass buffo)
Fanny, his daughter (soprano)
Edoardo Milfort (tenor)
Slook, an American merchant (baritone)
Norton, an employee of Tobia Mill (bass)
Clarina, a chambermaid (soprano)
The first of five operatic farces composed by Rossini between 1810 and 1813 for the Teatro San Moisè in Venice, La cambiale di matrimonio is more than just a simple trial run. Gaetano Rossi's libretto tackles once more, in the purest Italian
tradition, the theme of the arranged marriage. The music contains all those characteristics which would make Rossini's later operas (La Cenerentola, The Barber of Seville, The Italian Girl in Algiers) so successful: an overture with an irresistible crescendo, arias and vocal ensemble pieces of a superb richness, wonderfully precise characterisation of the comedic roles (Mill and Slook), use of syllabic song, and a virtuosity in the vocal line which is reminiscent of that of baroque vocal music.
The story
The merchant Tobia Mill has received from his rich American correspondent Slook a letter demanding that Mill furnish him with a wife. Against the advice of his assistant Norton, Mill decides to 'sell' to Slook his own daughter, Fanny. Fanny is in love with Edoardo, but Edoardo's lack of financial means prevents him from marrying her. When Slook arrives to take possession of his 'property', Fanny – who has been warned of her father's intentions by Norton and Clarina – tells the American that she is not for sale. Norton advises Slook that it seems his 'merchandise' (in other words his future wife!) might already be mortgaged… The American tells Mill that the deal is off and Mill, furious, challenges him to a duel. When Slook realises that Edoardo and Fanny are truly in love, he instead makes out the 'contract' to Edoardo and designates the young man as his heir. Mill arrives for the duel but, once he has been made aware of the situation and of the generosity of Slook, he finally agrees to let his daughter marry Edoardo.
A note on artistic intent by Leonardo García Alarcón,  musical and educational direction
"The works of Rossini are without doubt some of the richest of the operatic repertoire. His style, apparently simple and straightforward but in reality challenging and technically very virtuosic, has earned him his well-deserved fame, even if it was not until the 1970s that his oeuvre received a proper renaissance at Pesaro.
Rossini was born several months after the death of Mozart, and the latter's works had a great and life-long influence on the younger composer. Nicknamed 'il tedeschino' (the little German) during his years of study due to his wide knowledge of the works of Viennese composers, Rossini learnt from Mozart the distinctive 'theatrical rhythm' which Italian opera had yet to adopt.
Rossini took inspiration from the baroque vocal technique in the development of new and hugely diverse stylistic devices and, like Mozart, decided to break with traditional operatic form to create scenes the variety of which would continue to define the genre right up to the final works of Giuseppe Verdi.
La cambiale di matrimonio is the young Rossini's first opera, composed when he was barely 18. It was a huge success, and contributed to the rejuvenation of a genre which had found itself stuck in an impasse. This little gem is in essence a baroque opera in miniature, an audacious and lively comic farce which foresaw
the immense talent of a composer who would come to completely master the genre of baroque and classical musical theatre.
This Academy project has a very particular importance for me. The Ambronay European Baroque Academy will tackle for the first time the repertoire of the early 19th century, and I hope through this work to participate in a renewal of Rossinian performance through a collaboration with a new generation of singers and instrumentalists. These musicians will without doubt find in La cambiale di matrimonio a reflection of their own youth and radiant energy."
Singers : Apply here toward the Aix-en-Provence Academy.
Instrumentalists : Download the PDF below.
---